Our range of comprehensive scaffolding services includes:
SCAFFOLDING FOR CONSTRUCTION SITES
Comprehensive scaffold design, erection and dismantling for commercial and private clients across UAE. With over 20 years experience in scaffolding Gulf Arena Scaffolding is a  leading specialist for scaffold services; great design, fast and efficient construction and dismantling with full site support and an impeccable safety record, everything we do is aimed at providing the exceptional to our customers.
Scaffolding planning and design
Scaffolding erection
On site support
Scaffold dismantling
Scaffold Hire
Streetwork
Shoring up and propping up
Towers and formwork
Pro-active safety support
Professional Scaffolders

Our team are all  trained and directly employed by us so that you can be assured of best results every time.
SCAFFOLDING FOR SHIPYARDS
DUBAI OPERATIONS
Gulf Arena Scaffolding regional office is based in Dubai; this office is staffed with 10 personnel, who are responsible for the day-to-day requirements of the contracts, supervision and administrative requirements of our U.A.E. workload.
QUALIFICATION AND EXPERIENCE
All scaffolders employed by Gulf Arena Scaffolding meet and exceed minimum standards demanded by Oil and Gas Industry Clients, all in accordance with British Standard BS 5973.
WHY CHOOSE US? Gulf Arena Scaffolding provides an award-winning specialist service that includes the expert design, supply, erection and dismantling of scaffolding and associated services to major contracts throughout the United Arab Emirates.We are able to take on contracts of any size and complete all our projects in the most efficient, safe and cost-effective way possible.Throughout the project life cycle we can offer:
One stop service for clients offering scaffolding for events, constructions, oil & gas industries.
Extensive experience and knowledge in construction for events, constructions, oil & gas industries.
Over 23 years in Middle East region, Extensive client base and proven track record.
The Company continually strive to reach new heights within its industry.
Flexible and can respond to client's reasonable requirements at short notice.
Unrivalled service and competitive rates.
Comprehensive range of scaffolding services.
Expert supervision and project management.
Utilize our own well-maintained, well-stocked, quality equipment.
Undertake any major contract with fully integrated management system to ensure precise communication and swift action procedures for changes and adjustments.
Committed to quality, best health and safety practices.
Suppliers to Construction
Scaffolding In Shipyard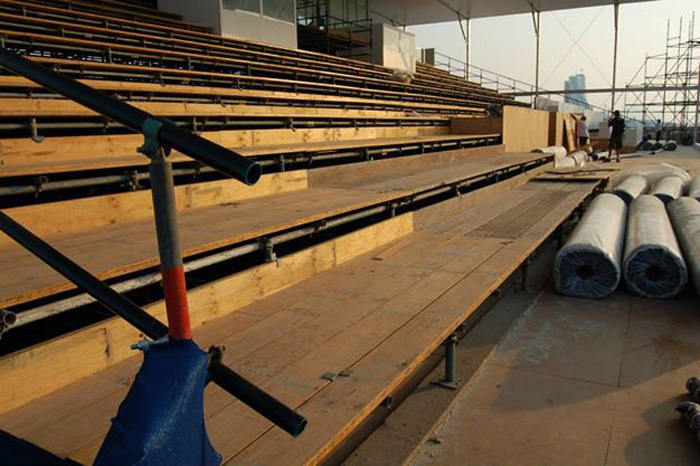 Grandstand Scaffolding
Scaffolding Oil & Gas Industry